ComStore - Legacy UI
About the ComStore
Datto RMM makes many components and monitoring policies available to all partners. These components are officially supported, and are produced and tested in-house. They can be found in an online repository called the ComStore, which can be accessed by clicking the ComStore tab.
Components are as diverse as application installers, third-party integrations, scripts, or even device monitors, while Monitoring policies offer best practices to monitor the most common platforms and applications, such as Exchange, SQL and IIS.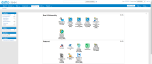 List of ComStore components
To access a full list of ComStore components, refer to List of ComStore components.
NOTE  Unless otherwise stated, ComStore scripts are owned by Datto and are provided to Datto partners solely for internal use and/or for servicing the clients of Datto partners in conjunction with an active Datto RMM subscription. Any other use or redistribution is prohibited without explicit approval from Datto.
If you require component-related support, refer to Getting support for components.
Component categories
Components in the ComStore are grouped into the following categories:
Applications - The Applications category contains applications such as web browsers, browser plug-ins, Adobe products, and Flash players, which are ready to be pushed out to as many endpoints as required.
Integrations - Integrations enable Datto RMM to connect to PSA platforms, such as Autotask.
Device Monitors - Device monitors allow you to monitor the state of your devices. For example, backup, services, processes, antivirus, and more.
Extensions - Extensions provide additional functionality, such as Splashtop Remote Screen Sharing or Webroot Endpoint Security.
Scripts - This area contains scripts for activities, such as installing uVNC mirror drivers, clearing the print spooler, rebooting the system, and various other useful tools.
To make a component available to yourself or other users in your company, you must first download it from the ComStore. All downloaded components are added to your Component Library that can be accessed by clicking on the Components tab. From there, you can deploy the components to your endpoints.
NOTE  PowerShell components within the ComStore do not support language modes other than the default FullLanguage mode. Should other modes be in effect (for example, ConstrainedLanguage or RestrictedLanguage), components may need to be copied and altered in order to support these modes. For more information about PowerShell language modes, refer to About Language Modes.
Downloader-type components
Downloader-type components run by performing a series of checks on the endpoint and then downloading the latest version of the installer for the program on the fly via the script (whereas normal components attach the installer and execute it directly). If you use a downloader-type component, make sure to add the relevant download URL to the allowlist. For more information, refer to ComStore component and Software Management URLs.
Community ComStore
The Community ComStore is a repository for Datto RMM components, policies, and scripts. All Datto RMM users are encouraged to share best practices with the Community so that all users can benefit.
Make sure you are familiar with the Community ComStore ground rules before using the site.
IMPORTANT  Components shared in the Community ComStore are only supported by the Community.
How to...