Datto RMM 12.5.0 release notes
Schedule
*
| Platform | Date | From (UTC) | To (UTC) | Duration |
| --- | --- | --- | --- | --- |
| Syrah (APAC) | Monday, November 6, 2023 | 10:00 | 13:00 | 3 hrs |
| Zinfandel (US West) | Wednesday, November 8, 2023 | 09:00 | 12:00 | 3 hrs |
| Concord (US East) | Thursday, November 9, 2023 | 09:00 | 12:00 | 3 hrs |
| Merlot (EU2) | Thursday, November 9, 2023 | 18:00 | 21:00 | 3 hrs |
| Vidal (US East) | Monday, November 13, 2023 | 09:00 | 12:00 | 3 hrs |
| Pinotage (EU1) | Monday, November 13, 2023 | 18:00 | 21:00 | 3 hrs |
NOTE  *The schedule is subject to change. Please check the Status Page for regular updates.
IMPORTANT  This is a full platform and Agent release; therefore, partners should expect brief disconnections of the Agent during the update window.
About the release
The 12.5.0 release is the eleventh of our twelve monthly releases planned for 2023. Please see below for the highlights, along with the full list of fixes and improvements. As always, we look forward to your feedback as we continue to improve the product every single month.
Autotask Integration setup in the New UI
You can now set up the Autotask Integration in the New UI within Setup > Integrations. This configuration brings massive usability improvements compared to the legacy UI setup page. Clarity and intuitive usage are the heart of the new design. Refer to Autotask Integration.
Highlights include the following:
New tab layout keeps each area of the integration cleanly organized.


Significant performance improvements when using the site mapping analysis tool to automatically match Autotask companies to sites. Refer to Configure organization (site) mapping.
What's Next? tab with guidance and video tutorials on how to get the most out of the Autotask Integration.

Color-coding, quick filters, and apply-to-all utilities help get the job done faster.
Web Remote: Additional Autotask companion actions
We have extended the Web Remote Autotask companion to put some essential tools into technicians' hands and provide some brand new workflow possibilities:
As we continue to make additions to the Autotask companion in Web Remote, we would love to hear your thoughts on what else you would like from this tool. Submit your feedback through this form or via the Send Feedback button within Datto RMM. Refer to Sending feedback.
Microsoft 365 Integration
IMPORTANT  We're excited to introduce performance enhancements in the current 12.5.0 release of our Microsoft 365 Integration. To fully benefit from these changes, please refresh the All Tenants page and All Users page in your browser to update the lists of tenants and users. If the refresh does not populate results, follow these steps:

Navigate to Setup > Integrations > Microsoft 365.
In the Authenticate tab selected by default, click Turn Off.
Turn the integration back on, insert a dummy value in the Tenant ID field, and click Save. You will receive a message stating, "Unable to save Microsoft 365 configuration details. Please try again."
Enter your real tenant ID and click Save. Initially, the Tenants tab will be empty, but the list of tenants should appear within five minutes.
Re-sync your tenants. For instructions, refer to Sync Microsoft 365 client tenants to Datto RMM.
Return to the All Tenants and All Users pages in the Microsoft 365 menu, which may also require up to five minutes to populate results.
Once you have completed these steps, subsequent actions will allow you to experience the performance enhancements introduced in this release.
Thank you for your cooperation. If you encounter any issues or have questions, don't hesitate to reach out.
Release updates
The 12.5.0 release contains some major foundational architecture changes to improve performance and streamline the experience. Refer to Microsoft 365 Integration.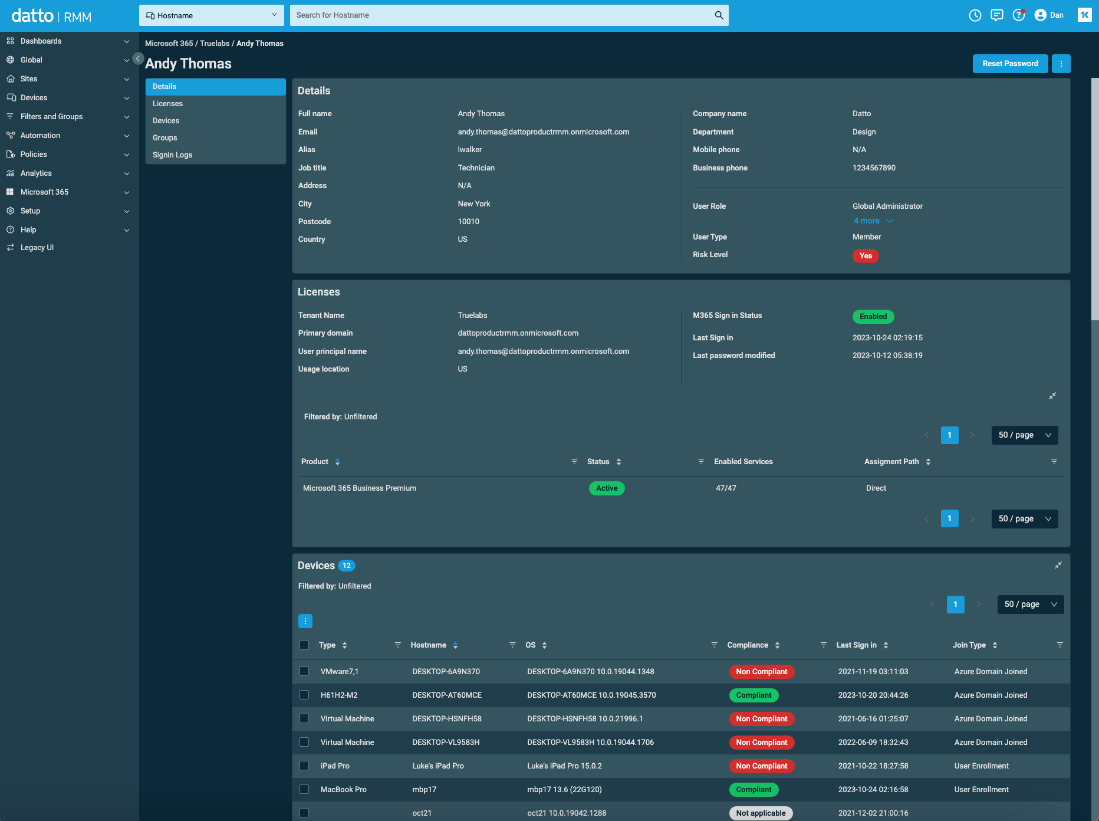 Data persistence: We have created a persistence layer in our architecture where we store Microsoft 365 data in our database. Previously, we called all the APIs fresh every time, which resulted in the Datto RMM web interface being able to load only as fast as the Microsoft Graph API could run. With this persistence layer, the web interface will pull data from the backend with backend jobs running in the background to keep it fresh. Additionally, we have introduced data encryption at REST to remain GDPR-compliant.
Improved user information: To streamline the experience, we have cleaned up the Microsoft 365 data we are displaying and added more relevant information, such as the last password reset, risky user, licenses, and more. Additionally, we have rebuilt our device linking logic by making changes on the Agent to detect if the device is AD Joined. With this change, we will be able to have a bi-directional link between the device details page and user details page in a future release.
"Pending Sync" issue: While we continue to work through the Pending Sync, we have implemented a database cleanup when the integration is turned off, which will reset everything and allow you to re-integrate. Additionally, we have implemented improvements for better handling of API calls to Microsoft around timeouts and retries as well as better logging for the Datto RMM Support team to help with debugging.
Maintenance mode option for Patch Management policy
You can now automatically enable maintenance mode on targeted devices for the duration of a patch window to suppress alerts that would otherwise be generated. Refer to Monitoring Maintenance Window in Patch Management policy.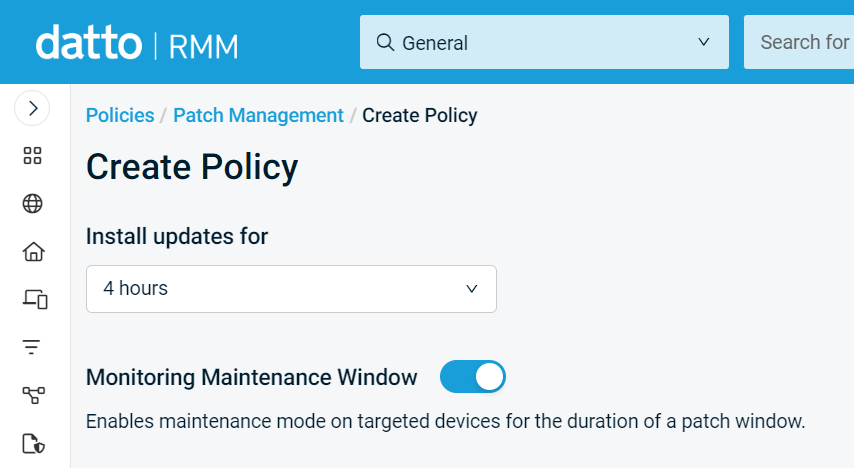 Uninstalling software from global and site-level pages
An Uninstall button has been added to Software pages at the global and site levels to allow MSI-based Windows software to be removed from multiple devices with a single action. Refer to Software and Column Chooser - Software.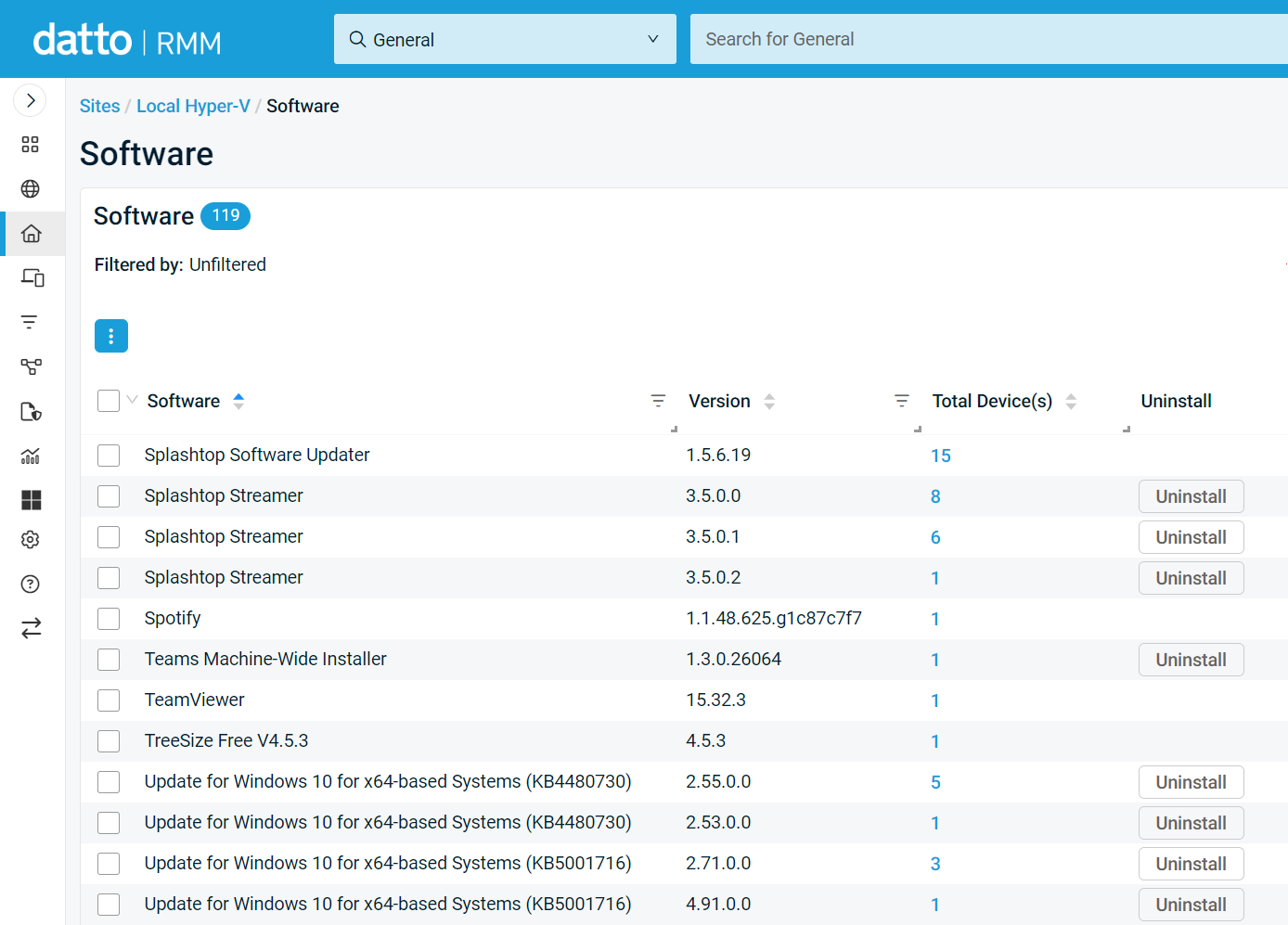 Updated Add Licenses page
The Add Licenses page for Datto RMM and Ransomware Detection now more clearly shows usage before and after the transaction to help prevent purchasing mistakes. Refer to Add Managed device licenses and Add Ransomware Detection licenses.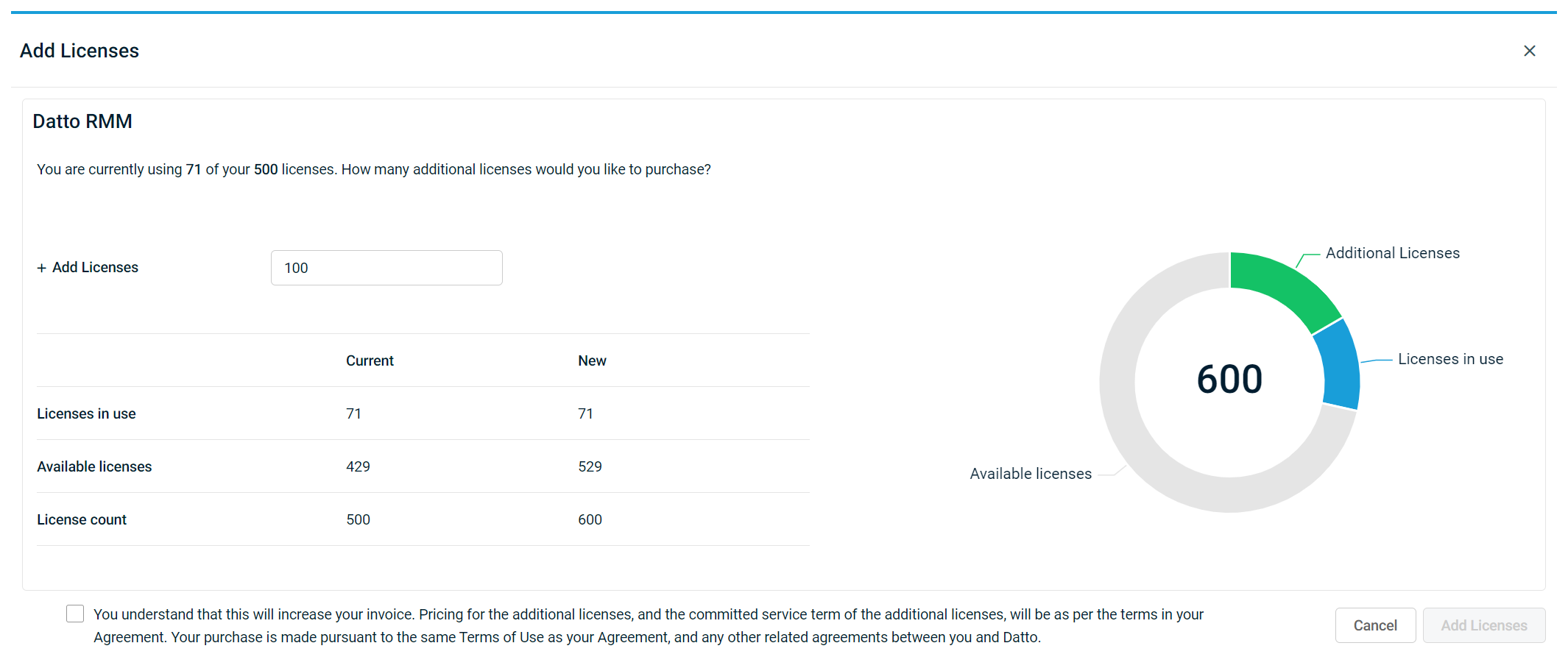 Portuguese (Brazilian) language support
Portuguese (Brazilian) is now a supported language in Datto RMM. This addition does not apply to the legacy UI or to reports. Refer to User Language in My Settings.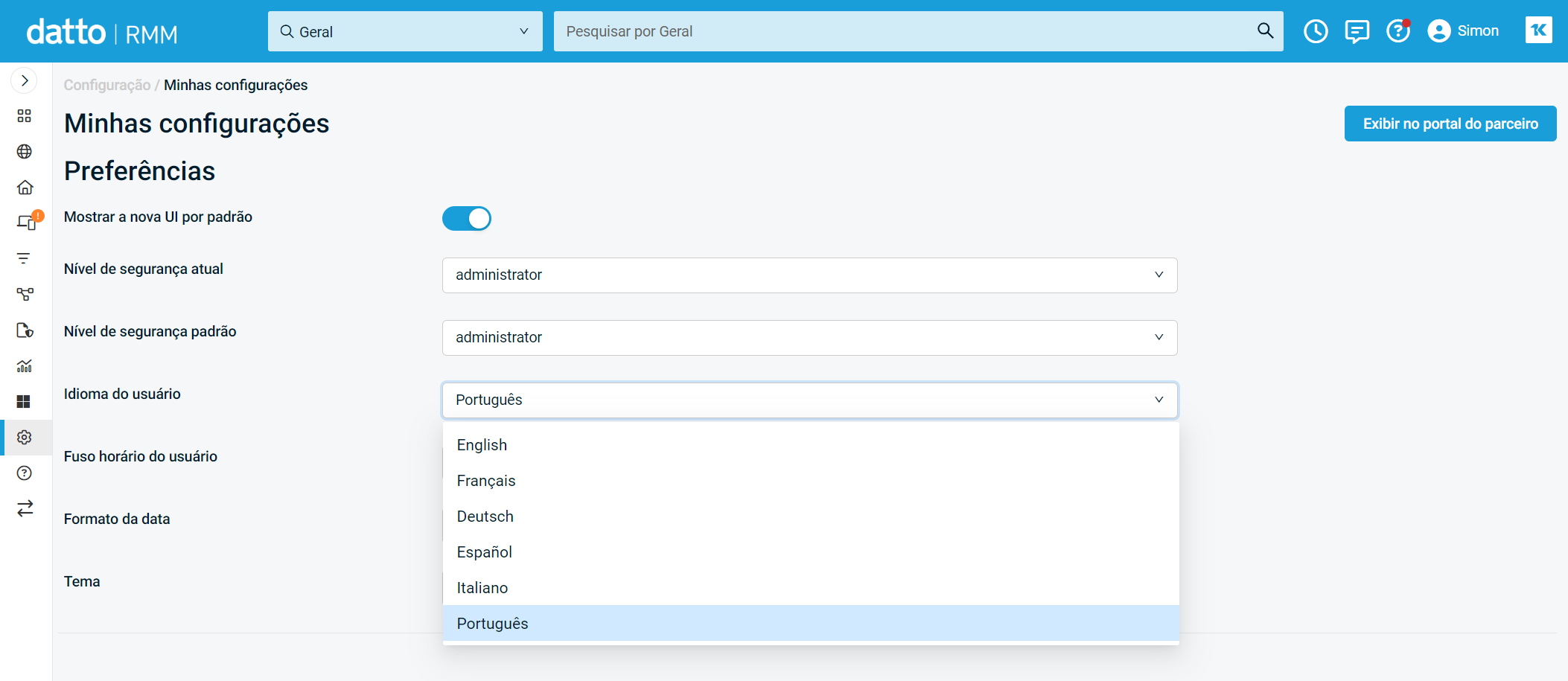 Email notifications linked to the New UI
All email notification hyperlinks now point to the relevant page in the New UI. This change also reflects any New UI custom branding. Customers without updated New UI branding will see the default branding. Refer to Branding.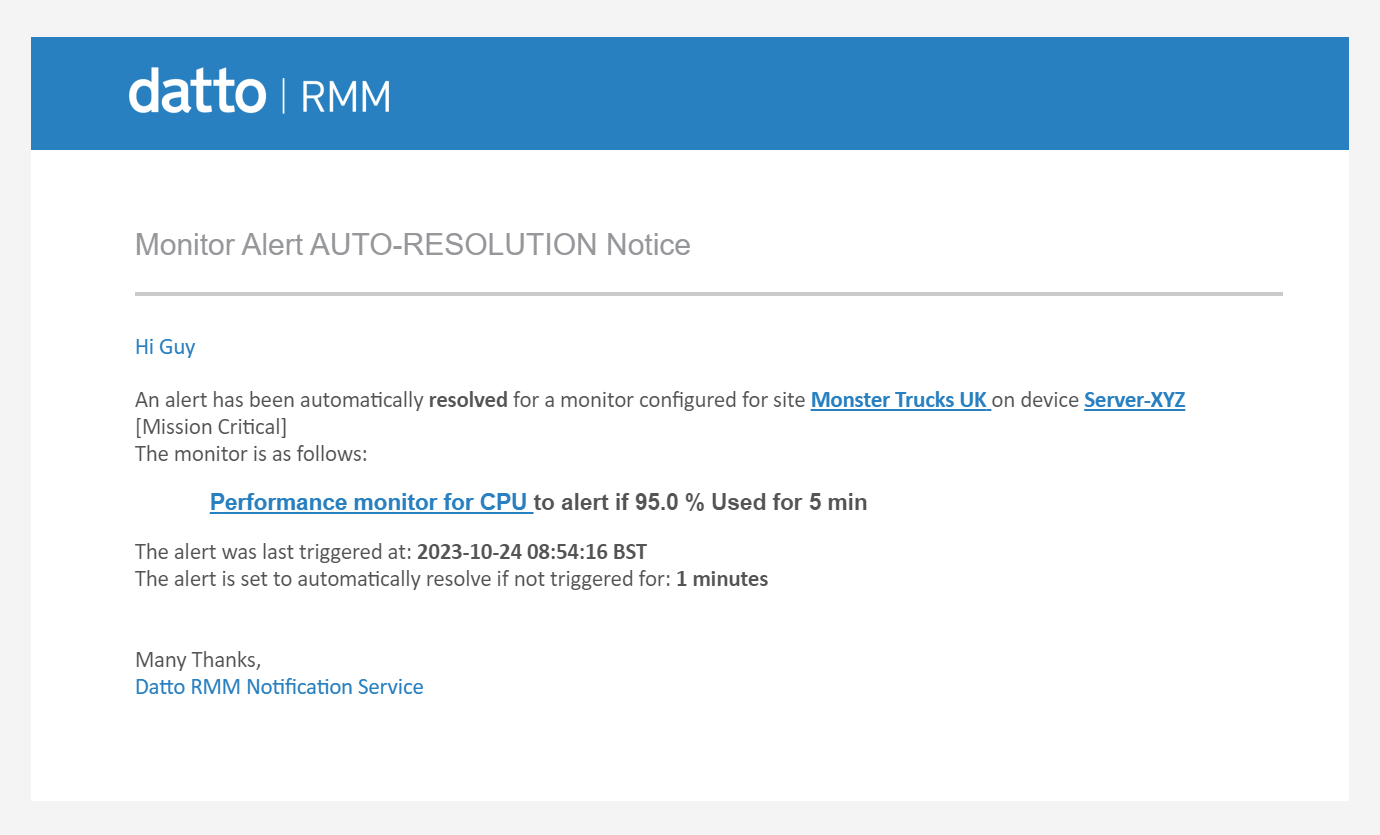 Updated "Show New UI by Default" setting for all users
Our metrics show that most users prefer the New UI for their default login experience by a ratio of almost 3:1. As all email links now redirect users to the New UI, we've decided to again encourage remaining users to give it a try.
The process will transpire as follows:
On Wednesday, November 1, users who still have the legacy UI set as their default login experience will be invited via a message to try the New UI.
The message will also inform that on November 29, the New UI will be automatically set as the default login experience for all users, with a link provided to learn more.
It is made clear that the legacy UI will remain accessible until the New UI transition is complete in 2024.
This message will repeat weekly until the login preference is changed for all users.


Additions to the ComStore
We release new ComStore components and update existing ones every month. Notable additions this month include the following:
Write Data to/Clear UDF: Reduxed version of a previous component with better support for clearing UDFs.
Uninstall Microsoft Store apps: Can be used to audit for Microsoft Store app IDs and, once they have been gathered, re-used to remove them. Use with caution.
New ComStore integrations
RMMMax: Many new components as part of an integration with RMMMax.com.
Datto Endpoint Backup: The new name for Datto Cloud Continuity.
Note for Bitdefender-integrated partners
The manner in which accounts integrate with Bitdefender will soon change. Review Bitdefender's instructions on reconfiguring your account for the new integration before the changeover on November 30.
NOTE  To access a full list of ComStore components, refer to List of ComStore components.
Want to know what's coming next?
Interested in what we're currently working on and the broader roadmap? Check out this post in the Kaseya Community for more information on our broader roadmap vision, what we're currently working on, and priorities for upcoming releases!
List of improvements and fixes in this release
Activity Log
| Type | Case ID | Summary |
| --- | --- | --- |
| Fix | RMM-16992 | The Activity Log now includes all users added or removed from a security level while editing. |
| Foundation | RMM-16874 | Scheduled job and report activity log entries have been updated to show the next run date. |
Agent
| Type | Case ID | Summary |
| --- | --- | --- |
| Foundation | RMM-19141 | TLS 1.3 has been enabled for use on supported operating systems. Refer to Agent and Web Remote security. |
| Fix | RMM-18975 | The Agent update retry logic has been changed from a fixed two-hour delay to a random delay of between 90 and 150 minutes if an HTTP error occurs. |
Audit
| Type | Case ID | Summary |
| --- | --- | --- |
| Foundation | RMM-18990 | The Agent audit logic has been improved to avoid unnecessary full audits when certain errors occur. |
Components
| Type | Case ID | Summary |
| --- | --- | --- |
| Fix | RMM-18861 | The Component Library is now properly displayed in job and monitor detail panes after previously being inaccessible due to security level or other restrictions. |
Datto Networking Integration
| Type | Case ID | Summary |
| --- | --- | --- |
| Fix<![CDATA[ ]]> | RMM-15297 | A correctly configured Datto Networking Integration will now populate all networks as displayed in the Datto Partner Portal. |
Filters
| Type | Case ID | Summary |
| --- | --- | --- |
| Fix | RMM-18698 | Available SNMP data is now populated in columns on filter results pages. |
| Fix | RMM-17151 | The Site Device Group filter results are now correct in the New UI. |
| Fix | RMM-18769 | The filter detail pane has been updated to display a complete list of all policy associations. |
| Fix | RMM-19215 | The Name column filter on the Policies page now correctly displays matching policy names when searching. |
| Fix | RMM-19194 | The Type column filter in the Network Discovery device list no longer selects all options when a second option is chosen. |
Long-term metrics
| Type | Case ID | Summary |
| --- | --- | --- |
| Fix | RMM-19213<![CDATA[ ]]> | The Metrics card on the Device Summary page has been updated to properly display gaps from offline events when viewing narrow and wider time frames. |
Monitoring
| Type | Case ID | Summary |
| --- | --- | --- |
| Foundation | RMM-19026 | Monitor resource usage has been reduced to improve Agent reliability and reduce timeouts. |
| Foundation | RMM-19031 | Monitoring has been optimized so the Agent can recover faster in the event of an error to reduce the number of lost metric values. |
Reports
| Type | Case ID | Summary |
| --- | --- | --- |
| Fix | RMM-16662 | Database maintenance was carried out to ensure Patch Management Activity reports no longer fail to generate due to a timeout while querying data. |
| Fix | RMM-18796 | Report targets using Global Default - All Sites no longer switch to a site default filter upon saving. |
Security Levels
| Type | Case ID | Summary |
| --- | --- | --- |
| Foundation | RMM-14898 | Users with access to only specific device groups will no longer see devices outside of their device groups that exist in sites to which the user has limited access. |
Web Remote
| Type | Case ID | Summary |
| --- | --- | --- |
| Foundation | RMM-19072 | Web Remote now checks the operating system version to avoid graphics support errors on unsupported systems. |
ComStore updates
IMPORTANT  This table does not list updates for components that are installed via Software Management.
NOTE  To access a full list of ComStore components, refer to List of ComStore components.
Component Name
Platform
New/Updated/Removed
Description
Audit OS Time Zone
Windows
New
Places the device's Time Zone into a UDF.
RMMMax BitLocker Collection
Windows
New
Integration components for the RMMMax Service.
RMMMax BleachBit Collection
Windows
New
RMMMax Chocolatey Collection
Windows
New
RMMMax Defender Collection
Windows
New
RMMMax Device State Collection
Windows
New
RMMMax HomeBrew Collection
macOS
Linux
New
RMMMax Linux Update Collection
Linux
New
RMMMax SurfLog Collection
Windows
New
Write Data to/Clear UDF
Windows
New
Component remade to be more robust.
Write Data to UDF
Windows
Removed
Uninstall Microsoft Store Apps
Windows
New
Audits and removes Windows Store apps.
Please use this tool sparingly.
Windows 11: Upgrade via ISO
Windows
Updated
Bugfixes.
Microsoft Office 365 Configuration Tool
Windows
Updated
MatchOS language tag no longer added by default.
Reboot If Required
Windows
Updated
Added StdOut to indicate when a device does not need rebooting.
Datto Endpoint Backup (for PCs & Servers) Agent
Windows
Updated
Renamed and updated to serve latest builds.
Internet Connection Checkup
Windows
Updated
Changed SpeedTest binary.
Potentially Unwanted Remote Support Software Scanner
Windows
Updated
Bugfixes.
Sophos Central Status Monitor
Windows
Updated
Vendor update.
Splashtop Streamer Pre-Installer
Windows
Updated
Persistent banner option enabled by default.
Monitor WinGet Application Updates
Windows
Updated
Refer to the CyberDrain Components tab of the spreadsheet in the following topic: List of ComStore components.
Monitor Local Admin Group
Windows
Updated
Monitor Azure FileShares
Windows
Updated
Execute Dell Command Updates - No reboot (DCU 3.1-5.0)
Windows
Updated
Execute Dell Command Updates (DCU 3.1-5.0)
Windows
Updated
Monitor Dell Driver Updates (DCU 5.0)
Windows
Updated
Enable NuGet PowerShell Provider
Windows
Updated
M365: Disable User Application Consent
Windows
Removed
Removed pending script updates.
Monitor Office365 Modern Authentication
Windows
Removed
Monitor Office365 Suspicious Login Locations
Windows
Removed