Datto RMM 11.6.0 release notes
Schedule
*
| Platform | Date | From (UTC) | To (UTC) | Duration |
| --- | --- | --- | --- | --- |
| Syrah (APAC) | Monday, February 27, 2023 | 10:00 | 13:00 | 3 hrs |
| Zinfandel (US West) | Wednesday, March 1, 2023 | 09:00 | 12:00 | 3 hrs |
| Concord (US East) | Thursday, March 2, 2023 | 09:00 | 12:00 | 3 hrs |
| Merlot (EU2) | Thursday, March 2, 2023 | 18:00 | 21:00 | 3 hrs |
| Vidal (US East) | Monday, March 6, 2023 | 09:00 | 12:00 | 3 hrs |
| Pinotage (EU1) | Monday, March 6, 2023 | 18:00 | 21:00 | 3 hrs |
NOTE  *The schedule is subject to change. Please check the Status Page for regular updates.
IMPORTANT  This is a full platform and Agent release; therefore, partners should expect brief disconnections of the Agent during the update window.
About the release
The 11.6.0 release is the second of our twelve monthly releases planned for 2023. Please see below for the highlights, along with the full list of fixes and improvements. As always, we look forward to your feedback as we continue to improve the product every single month.
Video
VIDEO  Datto RMM 11.6.0 Release Overview
Join Product Manager George Cochrane as he provides a quick overview of the Datto RMM 11.6.0 release featuring the new Datto EDR & Security Dashboard, new ComStore components, IT Glue Integration improvements, the latest product design updates, new languages in reports, localhost SNMP monitoring, the ability to edit internal IP addresses on the Device Summary page for certain device types, and the new Account Settings page.
Datto EDR Integration: dashboard template
Partners with Datto EDR enabled in their Datto RMM account will see a new dashboard template available. The widgets in this dashboard are pre-filtered on Endpoint Security, Ransomware, and Antivirus alert types, giving you a clean view on the most urgent security issues to address.
This dashboard is designed for monitors with resolutions of 1920 x 1080 pixels, but feel free to customize it to your own monitor size after you've added it.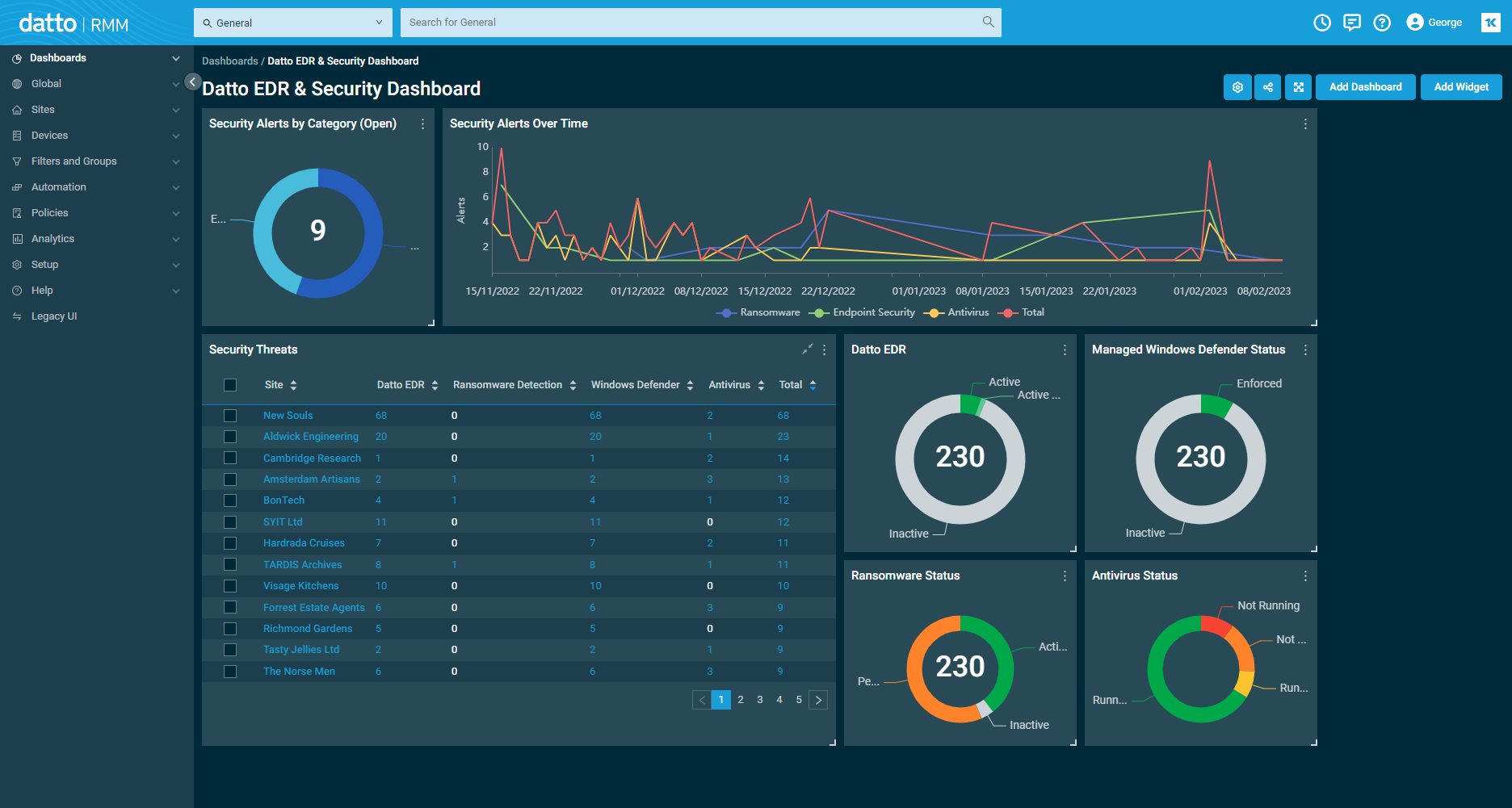 Refer to Dashboards Toolbar to learn about this pre-made dashboard and other templates available from the Dashboard Library.
IT Glue Integration: Organization password search
We are pleased to announce that the search functionality on the Passwords tab of the IT Glue pane will now also apply to the Organization level results. This change enables technicians to find important organization passwords, such as domain credentials, even if there are thousands of organization results. This change better supports IT Glue users who prefer to store passwords at the organization level rather than create embedded passwords for each managed configuration. Refer to Passwords in IT Glue pane in Datto RMM.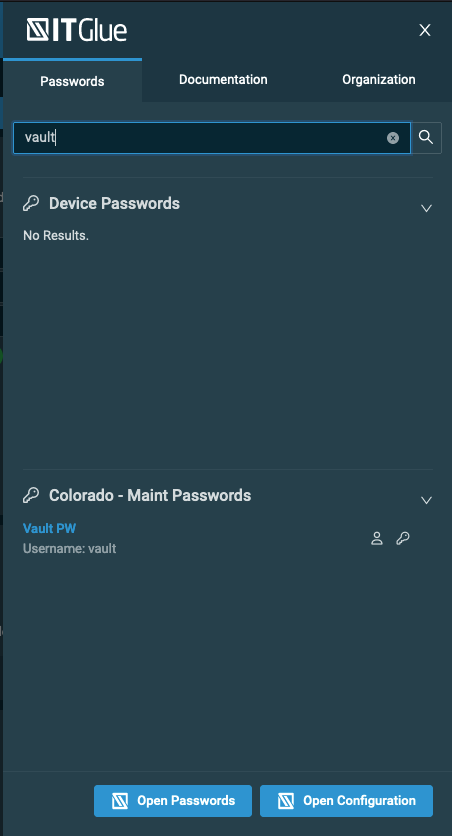 IT Glue Integration: device navigation
Some Community members suggested that the button on each page of the IT Glue pane could be labeled better, and that a button going directly to the configuration would be useful. We have now renamed the existing button for each tab and added an Open Configuration button to quickly access all IT Glue details about your device. Refer to IT Glue pane in Datto RMM.


IT Complete: common look and feel
We continue to smooth transitions when switching between IT Complete products by implementing more elements of the Kaseya Design System. This specification aims to ensure similar icons and stylings are used to help products feel familiar, even when encountered for the first time.


Updated breadcrumbs: Breadcrumbs have been reduced in size, restyled, and added to pages where they are currently missing to aid navigation. Refer to Breadcrumbs.
Relocated Show Me How and Send Feedback buttons: These buttons are now icons in the header bar and duplicated under the Help menu. Refer to Show Me How and Sending feedback.
Action button alignment: Page-level action buttons are now located on the right-hand side for a more efficient use of page header space. As an eample, refer to Action buttons in Device Summary - New UI.
Restyled action icons: Several icons signifying actions have been restyled to buttons for better visibility.
New languages in reports
Besides English and German, reports can now be scheduled in Spanish, French, or Italian as well. Refer to Language in Report scheduler (legacy UI) and Language in Reports - New UI (New UI).
Localhost SNMP monitoring
SNMP credentials can now be configured from the Device Summary page of Agent based devices to monitor the localhost without a separate Network Node. Refer to SNMP Credential in the Summary card.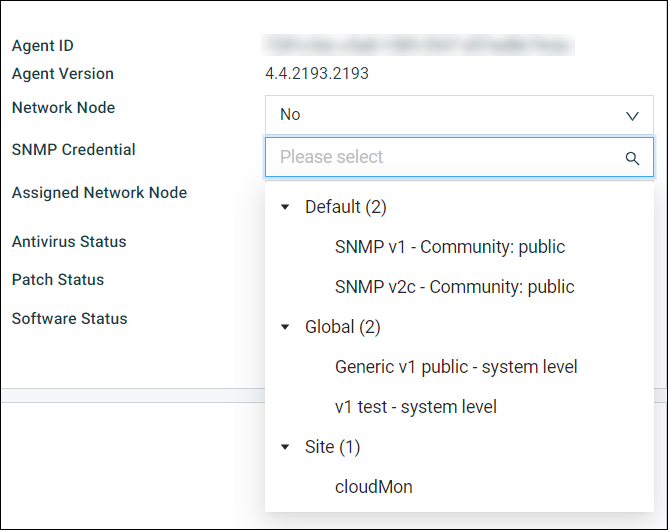 Global credential availability
Global Agent Deployment, ESXi, and SNMP credentials are now available to all sites in the New UI without prior enablement from Site Settings in the legacy UI.
Edit network device IP address
You can now edit the internal IP address for network devices, network printers, and ESXi hosts from the respective Device Summary page. Refer to Internal IP in Device Summary - New UI.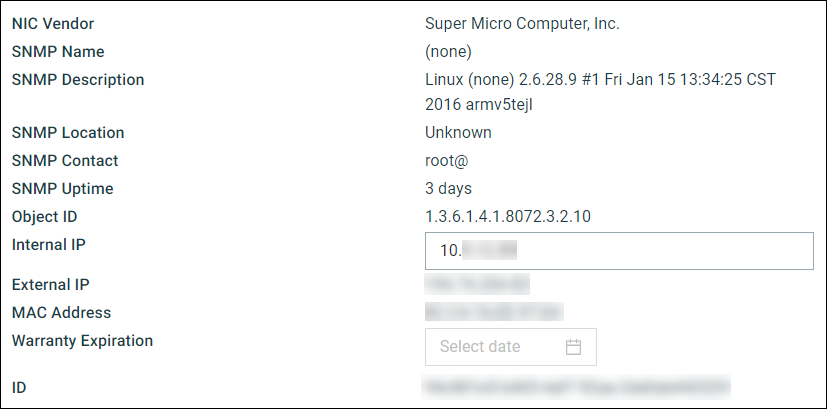 Account Settings
Administrators can now manage the Datto RMM account name, email, and locale in Setup > Account Settings. Refer to Account Settings - New UI.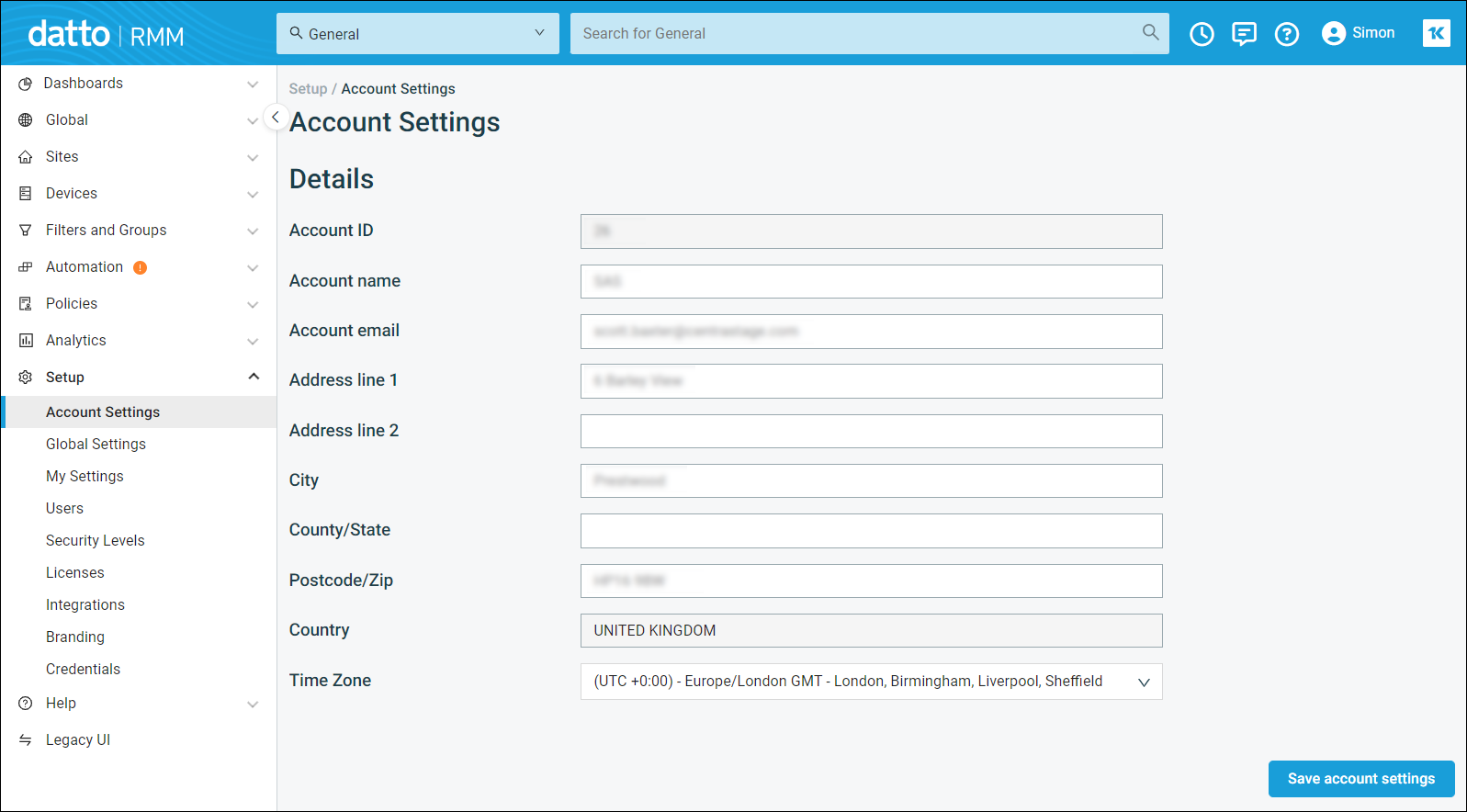 Row selection improvements
We're continuing to remove limitations on the number of rows available for selection when performing actions on list items. It is now possible to select all rows on a page, or all rows across all pages, from certain lists using the new drop-down arrow next to the check box in the table header.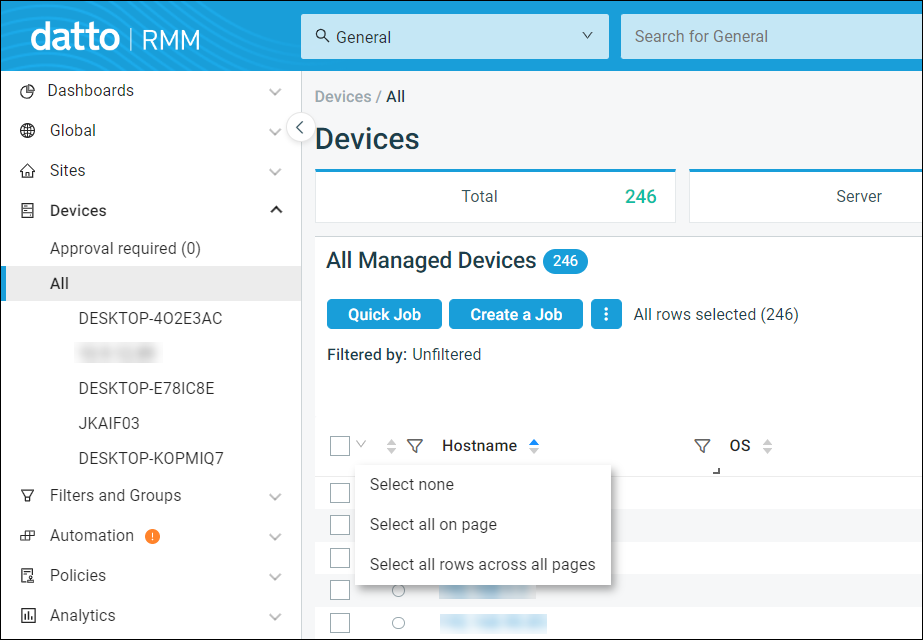 Implementing the new asynchronous processing approach requires working on each action and list combination separately. The actions and lists benefiting from the new approach in this release are as follows:
Export to CSV
Create a Job or Quick Job 
Additions to the ComStore
We release new ComStore components and update existing ones every month. Notable additions this month include the following:
Windows 11: Upgrade or Update to Latest Feature Release: Your requests were heard loud and clear, and there is now a counterpart to the Windows 10 Latest Feature Release component for Windows 11 using Microsoft's Windows Installation Assistant. Please note that this component will forcibly reboot devices when the installation is ready to proceed.
Configure Windows Targeted Release Version: This component can be used to keep your systems from updating past a certain release and return order to your infrastructure.
NOTE  To access a full list of ComStore components, refer to List of ComStore components.
Updates since the last release
| Type | Case ID | Summary |
| --- | --- | --- |
| Fix | RMM-16198 | The Datto RMM platform no longer raises offline alerts and marks network devices as offline if the Datto RMM Agent Service and Agent Process are disconnected from the platform. Network devices will only alert/show offline if the Network Node's Agent Service is online and does not receive a ping response from the network device. |
| Fix | RMM-16171 | The Device UID has been returned to the device registry, reverting the change made in 11.5.0 to bind this to a file only. |
| Foundation | RMM-16169 | The Software card now defaults to Installed software instead of Managed software to remove unnecessary calls on the Activity Log service when device pages are first loaded. Refer to Software in Device Summary - New UI. |
| Foundation | RMM-16173 | The Device Summary page performance was improved by removing dependencies on the Activity Log service when counting the number of software items needing attention. |
Want to know what's coming next?
Interested in what we're currently working on and the broader roadmap? Check out this post in the Datto Community for more information on our broader roadmap vision, what we're currently working on, and priorities for upcoming releases!
List of improvements and fixes in this release
New UI
| Type | Case ID | Summary |
| --- | --- | --- |
| Fix | RMM-16292 | The Device Summary page for ESXi hosts no longer displays an error message when the IP address is edited. |
Web Remote
| Type | Case ID | Summary |
| --- | --- | --- |
| Fix | RMM-16101 | The activity duration for Web Remote and Web Remote PowerShell logs is now correct. |
Autotask Integration and ConnectWise PSA Integration
| Type | Case ID | Summary |
| --- | --- | --- |
| Fix | RMM-15907 | Autotask and ConnectWise tickets are no longer failing to be created for alerts raised via an Endpoint Security policy when default settings are used. |
ConnectWise PSA Integration
| Type | Case ID | Summary |
| --- | --- | --- |
| Fix | RMM-15239 | For partners using the Connectwise PSA Integration, the device mappings load quickly and successfully when a large number of devices are mapped. |
IT Glue Integration
| Type | Case ID | Summary |
| --- | --- | --- |
| Feature | RMM-16053 | The message "This Quick Note is encrypted in the Vault and cannot be shown" is displayed instead of the unintelligible encrypted string. Refer to Organization in IT Glue pane in Datto RMM. |
| Feature | RMM-15978 | Access to Vault passwords no longer requires email address entry, as the email address is automatically detected via the API. Now, only the passphrase is needed. Refer to Passwords in IT Glue pane in Datto RMM. |
| Fix | RMM-16148 | The integration search functionality now correctly supports uppercase search entries. |
Agent
| Type | Case ID | Summary |
| --- | --- | --- |
| Fix | RMM-15839 | An issue that could cause the Datto RMM Agent to fail when starting up due to lost folder permissions has been remediated. |
| Fix | RMM-16056 | The Datto RMM Agent Service is no longer exhibiting a memory leak and consuming large amounts of memory. |
Linux
Monitoring
| Type | Case ID | Summary |
| --- | --- | --- |
| Fix | RMM-15875 | Component monitor alerts no longer fail if the component output response contains Unicode null characters. |
Platform backend
| Type | Case ID | Summary |
| --- | --- | --- |
| Foundation | RMM-15532 | To improve platform performance, device audits are now rate limited. Only two audits may be performed per device over a five minute time frame. Refer to Frequency of audits. |
Reports
| Type | Case ID | Summary |
| --- | --- | --- |
| Feature | RMM-15982 | The Executive Summary and Hardware Lifecycle reports now treat Windows 8.1 and Windows Server 2008 R2 as unsupported operating systems. Refer to Executive Summary report and Hardware Lifecycle report. |
| Fix | RMM-15650 | Editing a Site Device Filter in the New UI no longer causes reports targeted with that filter to lose their target. |
| Fix | RMM-15323 | Report emails are no longer blocked by Google Mail if multiple recipients were defined in the report. |
| Foundation | RMM-15376 | Reports run or scheduled from the New UI will target the scheduling user's current security level, not the user's default security level. Refer to Targets in Reports - New UI. |
Security levels
| Type | Case ID | Summary |
| --- | --- | --- |
| Fix | RMM-16079 | In the New UI, security levels now correctly respect the Sites > Settings > View and Manage permissions. |
| Fix | RMM-14568 | Users with a non-admin security level and Manage permissions for Sites are able to edit site settings for their permitted sites in the New UI. |
| Fix | RMM-14676 | Users with a non-admin security level can view and resolve alerts in the New UI only for devices within sites that they have the permissions to view. Refer to Global > Monitor and Sites > Monitor in Permissions in Security Levels - New UI. |
ComStore updates
IMPORTANT  This table does not list updates for components that are installed via Software Management.
NOTE  To access a full list of ComStore components, refer to List of ComStore components.
| Component Name | Platform | New/Changed/Deprecated | Description |
| --- | --- | --- | --- |
| Audit Local Users + Administrators | Windows | New | Lists all locally enrolled members on the device, optionally highlighting administrators, optionally writing to a UDF. |
| Collect User Profiles | Windows | Deprecated | Removed in favor of the above. |
| Configure Windows Targeted Release Version | Windows | New |   |
| Audit Wi-Fi Connection | Windows | New |   |
| Audit Active Power Plan | Windows | New |   |
| Windows 11: Upgrade or Update to Latest Feature Release | Windows | New |   |
| Audit Installed OS Languages | Windows | New |   |
| Audit Windows Licence/License Status | Windows | New |   |
| Disk Space Monitor | All | Changed | Updated to provide ReFS support. |
| Agent Health Direct-Check | Windows | Changed | Updated to improve certificate check resiliency. |
| Security Audit | Windows | Changed | Added new Windows EOL information. |